Can Men Get Laser Hair Removal?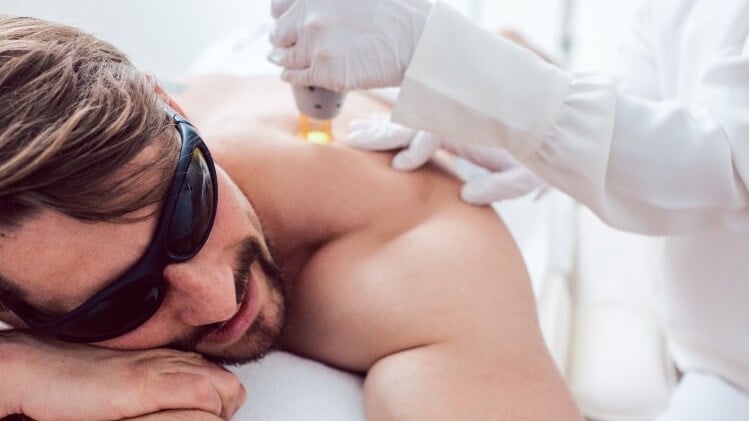 Laser hair removal isn't just for women—it's also an excellent option for men to remove unwanted hair without the irritation of shaving or the pain of waxing. From shaping a unibrow to eliminating a nest of chest hair, laser treatments can work for you. Here's everything you need to know about laser hair removal for men.
How Does Laser Hair Removal Work?
While you can always stick with low-tech options like shaving and waxing, laser hair removal uses technology to reduce hair growth for good. Some people mistakenly believe that lasers burn the hair off your body, but this isn't correct.
Laser hair removal works by aiming a concentrated beam of light at your skin, which targets the pigments in your hair follicles. Traveling down the shaft and into the root, the laser destroys the hair and stops it from growing. Over a period of several treatments, most of the hair in the treatment area will fall out and not grow back.
Where on the Male Body Can Lasers Remove Hair?
Unlike shaving and waxing, which are not appropriate for thin, sensitive skin, laser hair removal can be performed anywhere on the body. Some of the most popular places men choose to remove hair include:
• Upper face: Enjoy significant hair reduction on your nose, ears, between your eyebrows, or elsewhere on your upper face.
• Lower face: You may love having the option to grow a beard, but sculpting it every few days gets tiresome. Laser hair removal along the jaw line, beard line, and neck saves time throughout the week. It also prevents the need to shave, helping you avoid painful nicks, ingrown hairs, and razor burn.
• Back and shoulders: These hard-to-reach places are difficult to maintain at home. With laser hair removal, you can reduce unsightly shoulder and back hair for newfound confidence at the beach.
• Chest and stomach: Laser treatment works well on large areas, including the torso. Unlike shaving and waxing, laser hair removal can thin out your chest hair, rather than removing it altogether, creating a more natural look.
• Intimate areas: Even areas that would be incredibly painful to wax and risky to shave are eligible for laser hair removal.
• Arms and legs: The underarms, arms, legs, feet, and toes are becoming increasingly popular places for male laser hair removal, especially among swimmers, cyclists, and other athletes.
Benefits of Laser Hair Removal for Men
An increasing number of males are realizing the benefits of laser hair removal and loving the results as much as their female counterparts. Here are four reasons why you should try laser hair removal for men:
• Near-permanent results: You may be interested in laser treatment because you want permanent hair removal for men. The results vary by a person and type of hair, but most of the effect lasts for a long time.
• Safe and effective hair removal: Not all laser treatments are created equal. At Titan Medical Aesthetics, we use the Secret Pro system from Cutera, a high-volume hair removal platform proven safe and effective for all skin and hair types. When used correctly, side effects are less common than with waxing, so you can expect optimal, long-lasting results.
• Decreased ingrown hairs and acne: Shaving and waxing are known for causing irritation, which can be unbearable if you have sensitive skin. The ability of a hair removal laser to target follicles without damaging the skin makes it viable for even the most delicate areas of your body.
• Minimal discomfort: Laser treatment is much more comfortable than waxing. Some people describe it as a pinprick or snapping a rubber band against the skin, along with a warm sensation. If you're worried about pain, your laser technician can apply a numbing and cooling cream to reduce discomfort during treatment.
How to Prepare for Laser Hair Removal
Follow these tips to help you get the most from each session:
• Shave the treatment area the night before your appointment.
• Don't wax for at least four weeks leading up to your first session. The follicles must be intact beneath the skin for the laser to target and destroy them.
• Avoid direct sunlight in the treatment area for two weeks before your treatment.
• Don't apply lotion, deodorant, or other products in the treatment area on the day of your appointment.
Laser Hair Removal for Men Aftercare
Most people can resume their normal activities immediately after treatment. Side effects are minor, if they occur at all, and may include redness, inflammation, and minor blistering. For the best results, avoid the following for 24 hours post-treatment:
• Shaving, waxing, or plucking hair
• Exfoliation
• Excessive sweating
• Swimming or saunas 
• Scalding hot showers or baths
• Tight, restrictive clothing
• Hairspray or deodorant in the treated area
Then, follow these additional after-care tips:
• Apply soothing cream or ointment
• Avoid sun exposure for two to four weeks
• Wear sunscreen if you have to be outside
• Starting about five days post-treatment, gently rub your skin with a washcloth or loofah to help treated hair fall out
Schedule Laser Hair Removal Service for Men in Newburyport, MA
At Titan Medical Aesthetics, we focus on providing customized care for each of our valued clients using treatments proven effective for the face, skin, and body. Led by double board-certified physician Dr. Guy Navarra, our team, consisting of highly trained medical professionals NPs and RNs, is committed to providing an attentive and personalized medical experience for each patient, regardless of their goals. We work hard to ensure each of our valued clients are heard and understood, and we help them meet a wide range of aesthetic goals, from anti-aging to figure-slimming. Call us at 978.355.7280 or contact us through our website to schedule a FREE consultation.