Chemical Peels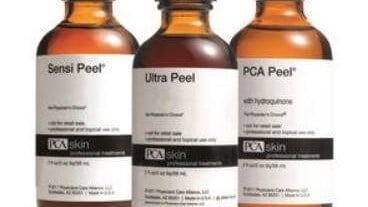 Could your skin benefit from a chemical peel? Yes, everyone's skin can benefit from a chemical peel! Chemical peels are the #5 most requested non-surgical cosmetic procedure. Chemical peels are a quick and easy way to foster the skin's regeneration process which results in boosted collagen and elastin, improved elasticity, a more even skin tone, and reduction in the appearance of fine lines. Typical skin conditions that chemical peels are used to treat include aging skin, hyperpigmentation, acne, and rosacea. Here's what you need to know:
During a chemical peel, an exfoliating acid is used to remove dead skin cells to brighten and smooth the complexion while reducing visible signs of aging. To provide you with the best result from a chemical peel treatment, Titan Medical Aesthetics offers a variety of individualized options. 
• Light peels don't disrupt your daily routine. You can have a light chemical peel on your lunch break and go right back to your day. This type of peel removes the outer layer of skin to give your complexion a softer texture and more radiant appearance. Typically, a light peel once a month gives the best results. 
• Medium-depth peels go further into the skin. It takes an extended weekend to recover from this procedure, and you can expect slight discomfort during the treatment and for an hour afterward. This type of peel is designed for skin with significant damage, like deep wrinkles and darker pigmentation issues. 
• Deep peels are the most intense type of chemical peel. They can be used to treat serious skin issues, including acne and severe sun damage. Because they use a higher concentration of acids, deep peels cause people to have red skin, and the healing process takes two to three weeks. Currently, this option is not offered in our office.
Which one is right for you? The best way to determine how to achieve healthy, smooth skin is to schedule a consultation with a medical professional. Sometimes, multiple types of chemical peels are suggested to improve a patient's skin, especially when there are several issues with the look of the complexion. 
If you decide to get a chemical peel, you'll receive the treatment while lying down in a relaxed position. Your skin will be cleansed before the customized solution is applied to the treatment areas. Once the solution is spread onto your skin, it will be allowed to work for the length of time determined during your treatment consultation. After the solution is cleaned off, a neutralizing agent will be applied. Bringing a light sunscreen and a hat to wear after the procedure is recommended, to protect you from environmental exposure. For best results, carefully follow instructions for your recovery period. 
At Titan Medical Aesthetics, we provide effective treatments for the face, skin, and body. Led by double board-certified physician Dr. Guy Navarra, our team is committed to providing an attentive and personalized medical experience for each patient. We work hard to ensure that each of our valued clients are heard and understood, and we help them meet a wide range of aesthetic goals, from anti-aging to figure-slimming. Call us at 978.355.7280 or contact us for a FRE E consultation.