Reasons For Hair Loss in Men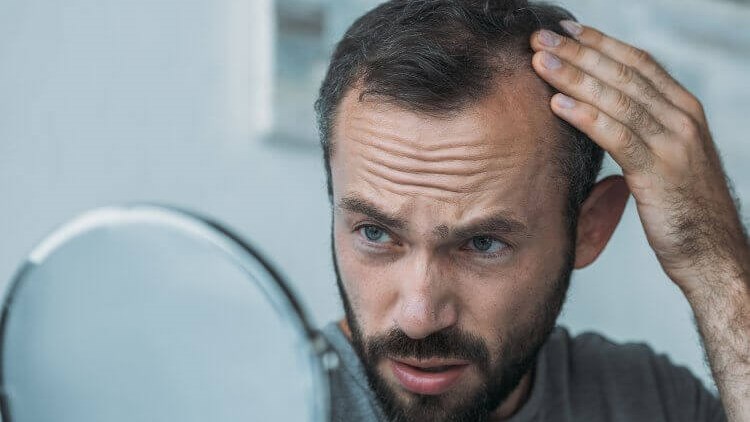 It happens to most men eventually. Hair near the hairline begins to thin and recede. Perhaps a bald spot forms near the back of your head. Of course this is male pattern baldness. Why does it happen, and what can be done?
Causes vary widely but include the following:    
Follicle Shrinkage - Each of your hairs grows from a tiny hole called a follicle. As you age, those follicles shrink, which makes your hair thinner and shorter. These follicles eventually may not grow hair at all, but they don't die.    
Genetics - Your likelihood to go bald early is largely a matter of your genes. This is called androgenic alopecia and can happen to women as well as men, though of course it's less common. If your father and grandfathers went bald at a young age, you're pretty likely to go bald early yourself.    
Hormonal Changes - Thyroid problems, for instance, can cause hormonal changes that induce hair loss.   
Alopecia Areata -  An immune disorder that causes patchy hair loss.   
Scalp Infections - Ringworm and other scalp infections can cause hair loss.   
Trichotillomania - This condition causes patients to pull their hair out.   
Medications and Supplements - A variety of pharmaceuticals can cause hair loss, including oral chemotherapy.    
Radiation Therapy - Radiation can make hair fall out. It often grows back differently.   
Stress or Trauma - A stressful or traumatic experience can induce hair loss. This is called telogen effluvium and is usually temporary.   
Hair Styles and Treatments - Hair loss can be induced by intensive hair treatments. Traction alopecia is caused by pulling hair tight in ponytails, buns or topknots. Excessive blow drying poses a risk as well.
Hair transplants are a fairly common procedure to mitigate hair loss, but it's expensive, invasive, and involves a long recovery time. Now there's an alternative. TED (Trans-Epidermal Delivery) is a hair-restoration device backed by clinical research. It uses air pressure and ultrasound to open up the protective upper layer of the scalp so that a blend of growth factors can penetrate the follicles. This method boosts absorption by approximately 65%. Three treatment sessions, each a month apart, increases follicle density by 44%, without pain, needles, surgery, or need for anesthesia. 
PRP for Hair Loss (platelet-rich plasma) therapy is also an option. It is a three-step medical treatment in which a person's blood is drawn, processed, and then injected into the scalp. Some in the medical community think PRP injections trigger natural hair growth but it is painful and there hasn't been enough research to prove if PRP is an effective hair loss treatment. 
At Titan Medical Aesthetics, we focus on providing customized care for each of our valued clients using treatments proven effective for the face, skin, and body. Led by double board-certified physician Dr. Guy Navarra, our team, consisting of highly trained medical professionals NPs and RNs, is committed to providing an attentive and personalized medical experience for each patient, regardless of their goals. We work hard to ensure each of our valued clients are heard and understood, and we help them meet a wide range of aesthetic goals, from anti-aging to figure-slimming. Call us at 978.355.7280  or contact us through our website to schedule a FREE consultation.