Helping Your Teen Tackle Skincare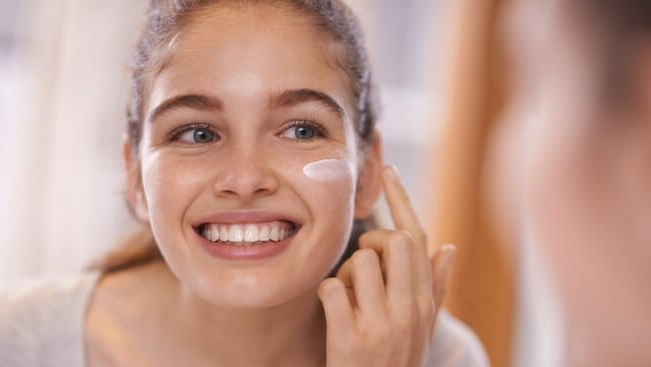 Helping Your Teen Tackle Skincare
Proper skincare is important at any age, especially during the teenage years when acne is most prevalent. Hormonal changes during puberty make a teenager's skin different from a child's or adult's skin. Whether you're the parent of a teen or a teenager yourself, remember that the care and attention the skin receives now will affect how it looks and feels many years in the future. Follow this guide to help curate the perfect skincare routine for teens.
Use facial cleanser morning and night: To ensure the right level of care and acne protection, teens should use PCA skincare products designed for their age group. PCA products are specially formulated to treat problematic, acne-prone skin. Wash your face with your chosen cleanser at least twice a day, preferably right when you get up in the morning and just before climbing into bed at night.
Moisturize your face: Oily, acne-prone skin is common among teenagers. You may think that adding moisturizer will make the problem worse, but the opposite is true. When your skin is dry, it overproduces oily sebum to counteract the dryness. To prevent this, apply oil-free, non-comedogenic lotion or cream after cleansing to restore your skin's moisture barrier without clogging your pores.
Wear sunscreen every day: By protecting your skin from UV rays in your teenage years, you'll avoid premature wrinkles, fine lines, age spots, and other signs of aging for many years to come. Look for SPF 30 or higher sunscreen with board spectrum protection, which guards against damaging UVA and UVB rays. To protect your face without clogging your pores, reach for a lightweight, tinted cream containing antioxidants and hydrating ingredients. 
HydraFacials: For teens worried about clogged pores, dry spots, or rough texture, HydraFacials are an excellent option. Teen athletes who experience skin problems due to excessive sweating can especially benefit from this non-invasive procedure. HydraFacials deliver instant results with no downtime. Customize your treatment based on your skin type and age with help from a dermatologist.
Chemical peels: Chemical peels are available in various strengths—light, medium, and deep. Light peels using PCA products are most appropriate for young, sensitive teenage skin. The treatment removes the outer epidermal layer, leaving a more radiant complexion and softer, smoother, healthier skin.
Light therapy: Celluma PRO and LightStim are state-of-the-art light therapy systems designed to treat and control acne. Combined with other acne treatments, light therapy can help teens achieve and maintain clear, radiant skin.
At Titan Medical Aesthetics, we focus on providing customized care for each of our valued clients using treatments proven effective for the face, skin, and body. Led by double board-certified physician Dr. Guy Navarra, our team, consisting of highly trained medical professionals NPs and RNs, is committed to providing an attentive and personalized medical experience for each patient, regardless of their goals. We work hard to ensure each of our valued clients are heard and understood, and we help them meet a wide range of aesthetic goals, from anti-aging to figure-slimming. Call us at 978.355.7280 or contact us through our website to schedule a FREE consultation.